HappyBasket Lite (beta version) released
As many other applications you can create your shopping lists, but with HappyBasket you can insert also the price of each product and you will be able to understand if it convenient or not, thanks to the app that will compare it with similar products in other lists.

This is usefull when you create your shopping list choosing the products from the leaflets of the grocery or malls with special offers's ads: instead of annotating them on post-it, you can create your shopping list using this application, and as soon as you added a product you can see immediatly if it is really cheaper than the others, thanks to a green, yellow or red ligth shown in the screen.

So when you are at the shop, with a quick check on HappyBasket you understand if it is really convenient to buy each products!

Save time and money with HappyBasket!

Screenshots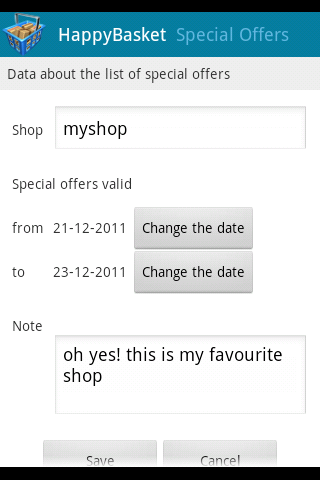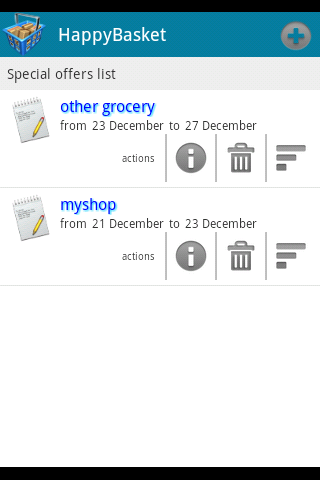 Download and install

The application is available on Android market.
Click here
to download HappyBasket Lite
Click here
to download HappyBasket Pro
Comparison table for Lite and Pro version
| | Lite | Pro | |
| --- | --- | --- | --- |
| number of lists | 8 | unlimited | |
| number of products in lists | 8 | unlimited | |
| quick insert mode | not available | available | |
| archive | not available | available (in next version) | |
---
News
January 2012

Version 0.6 of Lite and Pro application released

December 2011

First Lite version released for beta testing (v.0.5)
Contact information
Mobile application developed by
Stefano Minella
E-mail:
happybasketspecialoffers@gmail.com
Install
version pro:

version lite: